Posts: 21980
Joined: September 3rd, 2013, 1:09 pm
Has thanked: 2940 times
Been thanked: 4955 times

NIL has changed these decisions for kids, no doubt about that.
These users thanked the author tmcats for the post:
"This country cannot afford to be materially rich and spiritually poor." - JFK
---
And now it's NCAA legal. Back when Eric Dickerson was leaving SMU for the NFL the saying was that he had to take a pay cut. That was because the SMU boosters had set up a payment program for the players, and it ultimately got them the death penalty.
Now, basically the same thing is happening but it's okay with the NCAA. There's going to be players all over the county taking pay cuts to go to the NFL. Just like what could happen to Deuce and Robinson.
---
Posts: 4026
Joined: September 1st, 2013, 7:01 pm
Location: Washington
Has thanked: 747 times
Been thanked: 623 times
So if Deuce were to be drafted in the 5th round he would sign a rookie contract around $296,000 for signing. If he remains healthy and on the roster for the next four years he would earn $3.96 million. IMO his NIL deal would have to be really BIG to stick around for another season, unless he or his father felt that another year at KSU would boost him up into the middle of round three or higher where the signing bonus is over a million and the four year payout is $5.25 million.
These users thanked the author wazucat for the post:
---
Posts: 2258
Joined: September 8th, 2017, 10:36 am
Has thanked: 779 times
Been thanked: 580 times
Deuce won't be around next year unless he has no NFL aspirations. Assuming he does (99% probability), then there isn't a compelling reason to stay. He's proven everything he needs to prove.
---
---
Posts: 476
Joined: September 23rd, 2017, 5:54 pm
Has thanked: 173 times
Been thanked: 34 times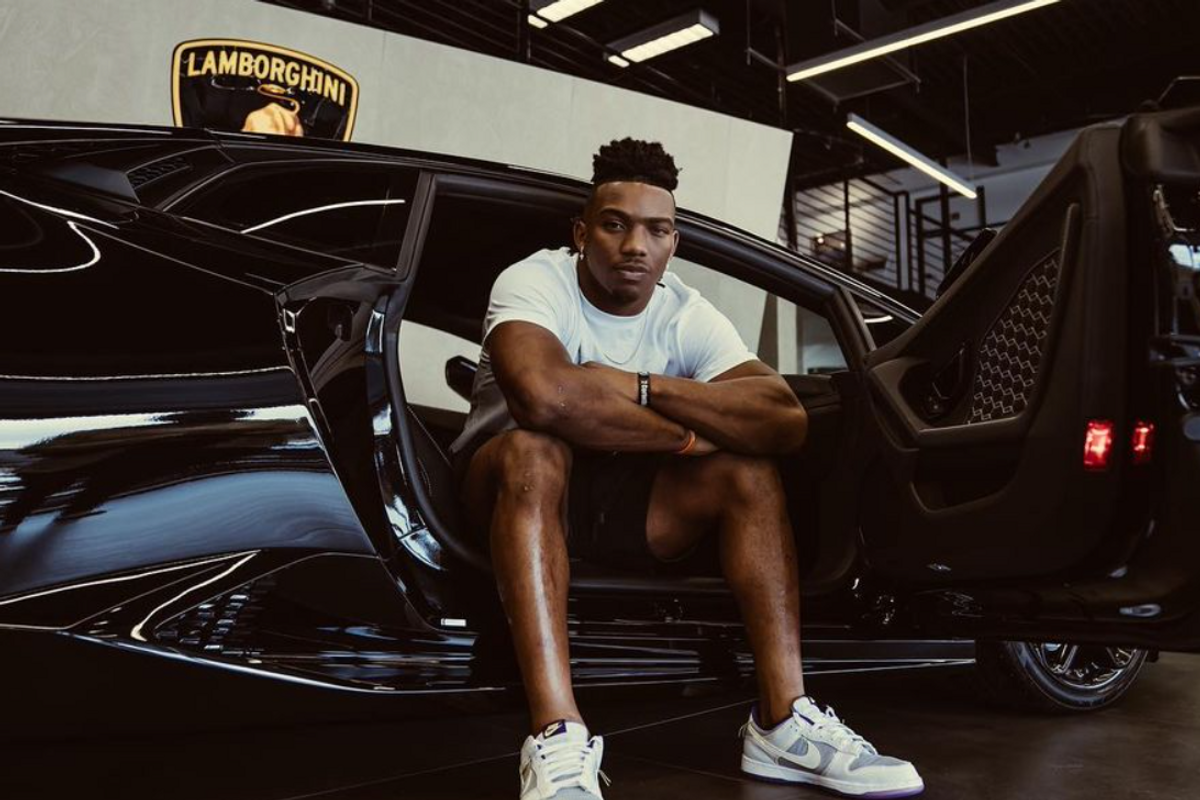 Star UT running back Bijan Robinson inked a contract with Lamborghini Austin in the first year of NIL deals. (Bijan Robinson/Instagram)
https://austonia.com/longhorns-nil-deals-2021
University of Texas athletes cashed in on over $2 million in the year since collegiate athletes have been cleared to make name, image and likeness deals, according to UT records.
Records obtained by the Austin American-Statesman show that 154 Longhorns sealed 418 NIL deals for a total of $2,039,180 from August 1, 2021 to April 30, 2022.
Here's how each sport stacked up:
94 football athletes racked up nearly $900k in NIL deals, including one contract worth $60k and three deals worth $50k apiece. While UT is not allowed to disclose names associated with compensation, UT star running back Bijan Robinson made waves with six major NIL deals, including a recent contract with Lamborghini Austin.
Softball earned its fair share as well with the second-highest NIL value of $295,790 spread among 64 deals.
Men's and women's swimming and diving programs each earned around $250k each.
Men's basketball athletes inked 71 deals for a grand total of $158,585.
And volleyball was the final sport to crack $100k with 26 contracts and over $105k in cash.
Things will continue to ramp up in the Wild-West collegiate NIL space as it nears its second year. This fall, fans will be able to purchase personalized jerseys for the first time, while NIL "collectives" are on the rise, including a $10 million fund to help athletes make new sponsorships.
And while some worry that the new NIL territory could become a hotbed for new recruiting strategies, using deals to entice new athletes is still illegal per NCAA rules.
"Everything that we've done, we've run by the NCAA to let them know what's taken place," Texas Athletic Director Chris Del Conte told the Statesman.
---
Posts: 17085
Joined: September 3rd, 2013, 9:31 am
Has thanked: 1252 times
Been thanked: 1551 times
The SEC invited the UT snake into their house. Now they will find out no other SEC school will be able to compete with the Texas Longhorns for NIL cash.
---
Posts: 6158
Joined: September 9th, 2017, 7:45 am
Has thanked: 9003 times
Been thanked: 1600 times
WildcatEngineer

wrote:

↑

November 29th, 2022, 11:32 am

The SEC invited the UT snake into their house. Now they will find out no other SEC school will be able to compete with the Texas Longhorns for NIL cash.
True, although Texas A&M will give them a good run for their money when it comes to NIL.
"If you have a garden and a library, you have everything you need."
--
Cicero
---
Posts: 1706
Joined: August 25th, 2018, 11:58 am
Has thanked: 1523 times
Been thanked: 235 times
Texass and the $EC are made for each other.
---